Establishing The Pipeline For New Talent
In 2006 it became clear to RRPC Members that the Monroe Community College Optics program, the only program of its kind in the nation, was in dire straights. With very few annual registrations and fewer graduates, the program was a clear target for elimination by the College. The RRPC, together with the new Dean of Technical Education, Dianna Phillips, undertook an effort to market and grow the program.
Technical programs are very expensive for a college. Without sufficient support from industry, be it telecommunications, nursing, electronics or optics, and without sufficient enrollment, such programs become untenable. Phillips and the RRPC reached out to the optics community. RRPC and MCC also applied for a number of grants together, and in some instances were successful, but not on a scale that would enable the organizations to grow the program to meet our regional industry's demand for qualified opticians.
Working with The Rochester City School District
RRPC's work with the Rochester City School District began through an initiative at Monroe High School in 2008. Through outreach programs, two teachers from Monroe High learned about and attended a conference hosted by OPTEC, the National Science Foundation center for photonics education. They returned to Rochester with an interest in establishing an optics and photonics program at Monroe High. Although the initial effort with RRPC, MCC and Monroe High bore no fruit, it was instrumental in introducing us to East High School science teacher Paul Conrow.
When RRPC Executive Director Tom Battley met with Conrow in 2009, Conrow's vision was to develop an opthalmic laboratory at East High School to provide glasses for students that could not afford eyewear.
Once Conrow learned more about Rochester's optics industry, and the potential career paths in the industry for city high school students, the two developed a vision for East High School to have both an opthalmic laboratory and an optical fabrication laboratory at East High School.
The Optics Summer Sizzler Is Born
To jumpstart this vision RRPC organized a group of volunteers that met with Conrow and staff from MCC to create what was to become the East High / MCC Summer Optics Sizzler. The intent was to create an optics immersion program for young people from among a population of students often overlooked by our industry in its recruitment efforts: City High Schools. The goal of the sizzler was articulated as "filling the pipeline of students registering in the MCC Optics program and creating a dual credit optics course between East High School and MCC."
The success of the first annual Summer Optics Sizzler: a three day program engaging 12 students in experiments including coherent light, projection science, spectroscopy and stereo vision was clearly evident on the final day, The students presented what they had learned to their peers and a panel of industry representatives. Their presentations exhibited an impressive grasp of the material. There was no doubt that the Sizzler had tapped into a cohort of students with real potential for careers in optics.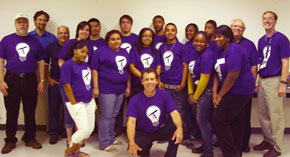 In expanding the Summer Optics Sizzler to other schools we will not dilute the optics focus to become a general "science camp." We will maintain small lab teams: no more than four students per team. We will only work with schools willing to create a dual credit optics course with MCC. We also expanded the program to four days.
Dual Credit Optics Course at East High
In September 2011 Paul Conrow began teaching the first dual credit optics course in the nation at East High School. 50 students enrolled in the course and 37 of those are enrolled for dual credit with MCC. Their dual credit fees were paid for using scholarships from Corning and Citizens Bank. Then in October, Gates Chili High School approved a dual credit optics class to be taught beginning September 2012.
Optics Manufacturing Laboratory Installed at East High School
On Saturday, November 26, 2011, a team led by Tony Marino from Advanced Glass Industries installed a complete optical fabrication laboratory at East High School, making East High the only school in the nation that has both an opthalmic laboratory for making eyeglasses and an optics laboratory capable of making sophisticated optical components.
The AGI / East High Move-In Crew at East High
left to right: Anne Marino, Tony Marino, Brandon Long,
John Beech, David Darling, Paul Conrow, John O'Herron Jr.
Equipment in the East High Optics Manufacturing Lab:
Grinder (Blanchard)
Lens Generator (Rogers & Clarke G-150)
5 Bench top Grinding Units
2 Double Spindle Machines (Nord)
2 Udagawa Spindle Polishers (4 and 2 Spindle machines)
24″ Continuous Polisher (Rogers & Clarke)
Double-Sided Planetary Lapper (one for grinding & one for polishing)
Diamond Edger (Bothner)
Zygo GPI Interferometer
Sphereometer set & optical testing instruments
8 spindle Dama polisher
Miscellaneous equipment and tooling
Tony Marino moving equipment
into the East High Optics Fabrication Lab
These advances could not have been made without commitment from teachers, volunteers and their employers, and the sponsors who have underwritten our efforts on the Summer Optics Sizzler.
The Summer Optics Sizzler continues growing and needs your support more than ever! We need:
Volunteers passionate about careers in optics and optics education to be team leaders during the 2012 Summer Optics Sizzler, June 25 – 28, 2012. Is there someone at your company that you will send to lend a hand?
Financial contributions to the RRPC to support our efforts in engaging more students in optics
Donations of modular equipment for specific experiments. For instance, microscopy, telescopy, polarization, bioluminescence, coherent light, etc.
Thanks to our supporters and volunteers:
Advanced Glass
Angstrom Precision Optics
ASE Optics
Citizens Bank
Corning
CVI Melles Griot
G-S Plastic Optics
ITT SSD
Lasermax
Monroe Community College
Moondog Optics
Optics Technology
Optimax Systems
OptiPro
PLS Launch Solutions
Sydor Optics
Thorlabs
Vincent Associates
Dan Balonek
Josh Cobb
Paul Conrow
Jim Crittenden
MARTIN DVORIN
Andy Germanow
Marcelo Guimaraes
Katherine Hasman
Jennifer Kruschwitz
Ross Micali
Elise Michaels
Paul Michaloski
Ron Schulmerich
Jim Van Kouwenberg
Alexis Vogt
2012 Sponsors and Volunteers:
AccuCoat
Advanced Glass Industries
Angstrom Precision Optics
Applied Image
ASE Optics
Citizens Bank
Corning
Corning
CVI Melles Griot
G-S PLASTIC OPTICS
Idex Optics & Photonics
JML Optical
Lasermax
Monroe Community College
Moondog Optics
Optics Technology
Optimax Systems
OptiPro
Oren Sage Technology
PLS Launch Solutions
QED Optics
Rochester Precision Optics
RPC Photonics
Semrock
Stampertech
Sydor Optics
Thorlabs
UR Laser Energetic Laboratory
Vincent Associates
Dan Balonek
Josh Cobb
Paul Conrow
Jim Crittenden
Damon Diehl
MARTIN DVORIN
Andy Germanow
Katherine Hasman
Jennifer Kruschwitz
Lynn Mellas
Ross Micali
Elise Michaels
Paul Michaloski
Donna Smith
Jim Van Kouwenberg
Alexis Vogt