In This Issue
Optimax Makes Inc. Best Workplace list
Golf Tourney registration deadline
SBIR Announcements
Optics Bench Debuts!
MCC / Optipro Collaboration

New Products
News from the Top at QED
Winning Workplaces
Optimax Systems Makes the Grade
RRPC member Optimax Systems joins such brand name luminaries as Patagonia and

The New York Jets in being recognized by Inc. Magazine's Winning Workplaces 2010- Top Small Company Workplaces.

Acknowledged for the approachability of its executives and for sharing 25 percent of its profits equally among all full-time employees, regardless of position or seniority, Optimax joins another Rochester, NY-based company, Dixon Schwable, among only 20 winners nationwide.
Congratulations, Optimax!
Congratulations Dixon Schwable!
Optics Bench Welcomes Visitors
As part of the Rochester communities "Benches On Parade" promotion, the RRPC Bench, "Optifabulosity" debuted in the arrivals lounge in the west end of the Rochester International AIrport in May. Underwritten by Sydor Optics and conceptualized by artists Chris Pallace and Kevin Serwacki, Optifabulosity takes the guise of a traditional telescope observatory, including the telescope, and the inscription, "Rochester, Optics Capital of the World."
In addition to declaring Rochester the Optics Capital of the World, kids and adults alike are able to look through the telescope and see images of galaxies, nebulas and other astronomical splendors taken by the Hubble Space Telescope. The cool telescope was constructed by John Etter, a CNC operator at Sydor Optics and Russel Raimondi, a mechanical engineer at Sydor Instruments.
Check out Optifabulosity the next time you are passing through the Rochester International Airport!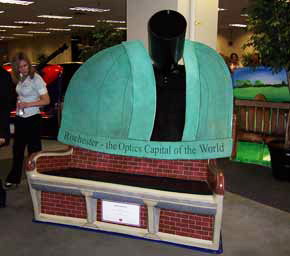 SBIR
The DoD SBIR 2010.2 solicitation opened for proposal submission from May 19, 2010 through June 23, 2010 at 6:00 a.m. ET. Six DoD components -- Army, Navy, DARPA, DMEA, DTRA, and OSD -- have R&D topics in this solicitation under which Phase I proposals are sought. The Solicitation, which contains detailed information on the parameters of the SBIR program and how to submit a proposal, and Topics are available at http://www.dodsbir.net/solicitation. You may also search the topics by going to http://www.dodsbir.com/Topics.
We know of at least two more SBIR awards to RRPC members that will be announced in our next newsletter.
New Products
The Corning Tropel Flatmaster
Tropel® FlatMaster® MSP Optical Metrology System
Adding to its comprehensive array of metrology instruments on the market today, Corning Tropel Corporation has developed a unique Multi Surface Profile Optical Metrology System; the Tropel® FlatMaster® MSP.
The newest in the line of Corning's non-contact form analysis instrumentation, the FlatMaster MSP is capable of simultaneously measuring dozens of surfaces at hundreds of millimeters of separation on complex components and assemblies. The new metrology tool is ideally suited for process control on components that require a surface profile tolerance. FlatMaster MSP can measure flatness, parallelism and depth/height on a variety of materials and surface finishes. More than three quarters of a million data points can be acquired and analyzed by the FlatMaster MSP in less than thirty seconds - with sub-micron accuracy.
The FlatMaster MSP Optical Metrology System targets the needs of manufacturers for extremely accurate surface and depth metrology to monitor process control. Ideal for applications such as medical devices, automotive components, and electronics, this system features an intuitive user interface that is very simple for a user to operate. In addition, the system software offers a suite of sophisticated analysis tools allowing an engineer to evaluate the manufacturing process.
"If it cannot be measured, it cannot be manufactured, especially if it is a precision assembly consisting of multiple components with high precision surfaces," said Tom Dunn, Senior Optical Engineer for Corning Tropel. "It is no longer enough to keep making the tolerances tighter on individual components, since the tolerance stack-up in the assembly will still fail you. The components need to be measured within the assemblies during the manufacturing process. Corning Tropel's FlatMaster MSP quickly provides an accurate measurement of the depth, height, flatness, and parallelism on each surface and between relative surfaces with superior repeatability and accuracy."

---
Simultaneous Five-color Fluorescence Imaging with
the World's First "Penta-Sedat" Optical Filter Set
Semrock announced the release of its new "Penta-Sedat" multiband fluorescence filter set, DA/FI/TR/Cy5/Cy7-5X5M. The eleven-filter set enables imaging of five distinct fluorophores simultaneously for the most complex imaging schemes. With the creation of the unique penta-beamsplitter, FF408/504/581/667/672-Di01, and an improved Cy7 emitter, FF02-809/81, the set allows for high-speed imaging into the near-infrared for in vivo and tissue applications, with up to four visible labels in addition. When used in higher-performance microscopes equipped with filter wheels, the quicker analysis time can bring down the overall cost of research and reduces diagnosis time.

At the heart of this new filter set is an innovative penta-beam splitter, with guaranteed transmission, reflection, and edge steepness every bit as good as single-edge dichroic beamsplitters. According to Turan Erdogan, CTO of Semrock, "Many researchers have asked us how they can image increasingly larger numbers of fluorophores without sacrificing the fidelity of their images. Semrock's unique ability to make the most complex optical filters with our all-hard-coating ion-beam-sputtering technology makes this new five-band filter set possible."
---
ISG Announces New Finger Lakes Smart Camera Family
The Vision Show in Boston was the location for The Imaging Solutions Group to introduce its new Finger Lakes Smart Camera Family.

The camera family supports both GigE Vision and CameraLink interfaces.

The Finger Lakes Smart Camera Family will have a number of family members. They will initially support the Eastman Kodak KAI CCD family. Starting with a 16Mp camera (7.4 micron pixel) the family will support all of Kodak's 5.5 micron CCD sensors. Additional sensors from other manufactures may be used in the future.

The cameras will have a workstation class high-performance Linux CPU and a large FPGA. External triggering and strobe functions are integrated along with a NTSC Composite Video Output and (2) USB2 interfaces.
According to Kerry Van Iseghem, Founder at Imaging Solutions Group, "A very low-noise analog front-end and the Kodak CCD's will offer stellar image quality. Additionally," Van Iseghem points out, "the ability for customers to program advanced imaging algorithms in C++ and run them on a high-performance Linux CPU offers easy customization and video analytic capabilities."
The Finger Lakes Smart Camera Family will find uses in traditional machine vision, Security & Surveillance and other government and military applications. The Vision Show is North America's leading showcase of machine vision and imaging components and solutions. It is sponsored by the Automated Imaging Association.
Events and Conferences
Optical Fabrication & Testing
13 - 16 June, 2010
Jackson Hole, Wyoming

Optatec
15 -18 June, 2010
Frankfurt, Germany
SPIE Optics and Photonics
1 -5 August, 2010
San Diego, CA, USA

OSA Annual / Frontiers In Optics
24 - 28 October, 2010
Rochester, New York
Register Today!
WNY Golf Tournament
Thursday, July 15
The registration deadline is
July 7, 2010

The fundraising efforts from this year's tournament will benefit a new venture within Golisano Children's Hospital. The hospital is excited to announce they are building a tower adjacent to the existing hospital that will house all new private in-patient rooms as well as a dedicated pediatric imaging suite. This "new" Children's Hospital will greatly enhance the care provided to our region's children.
Thanks to the generous support of the Optics Industry and it's allied professional service providers over the past nine years, this signature event has raised over $73,000 for the hospital. Each year has brought more participation. Last year, a tough year for many was no exception with participation from 75 companies and 240 individuals from all over the United States and overseas.

This year's tournament will take place at both Shadow Lake & Shadow Pines, with dinner at Shadow Pines. Additional tournament details will be provided at a later date.

If you are interested in golfing, dinner, or sponsoring this year's event complete the registration form and mail along with your payment to the address noted. Please fill out the registration forms carefully as the pricing structure has changed depending on the course you would prefer to golf on.
The registration deadline is
July 7, 2010

Registration will not be guaranteed until payment in full is received

An additional 10% will be charged for registrations received after the deadline
The Tournament is recruiting volunteers to help with this year's efforts. If you or your company is interested in sponsoring or volunteering for the biggest Optics Event in Western New York please contact Ron and Diane Schulmerich at wnyoptics[(at)]rochester.rr.com or call them at 585-663-7230 or 585-359-2102.
CNC Optical Fabrication
MCC / Optipro Collaboration Delivers Training
It started with a need at Monroe Community College. Or rather, it started with a need among Rochester's precision optics manufacturing community, and MCC needed to deliver training to meet the need.



Although CNC deterministic grinding and polishing have become standard manufacturing processes among advanced precision optics manufacturing companies, the equipment to do it is expensive - a little too expensive for a community college laboratory.

MCC knew that they wanted to deliver a course: OPT 235, as part of a NY State approved apprenticeship program, Optics Manufacturing Technician, but they didn't have the CNC equipment or faculty to do the training.

The college approached Michael Bechtold, President of OptiPro, a manufacturer of CNC optical fabrication equipment and metrology systems in Ontario, NY. Bechtold was willing to offer his facility as the training site, but there was still a catch: no curriculum existed for delivering the training. The solution? MCC had openings for adjunct faculty in its optics program. Dave Mohring and Ed Fess of OptiPro, two experienced, top notch candidates applied to become adjunct faculty at MCC and were accepted.

So a partnership was developed between OptiPro, and Monroe Community College, the only two-year college in the United States offering an Associates degree in Optics. The concept: as experienced developers of CNC machines, OptiPro would develop a training curriculum and offer their own factory floor and training facilities as the site for training.

The project at hand to develop a curriculum was much bigger than originally anticipated – without a course outline to follow, Mohring, Fess and Jay Tierson, another key player in developing the course, thought they might spend a few evenings putting it together. "Dave, Ed & Jay were passionate about the project," says Bechtold, "and it soon became obvious that it was going to take months to complete if they did it in their off-hours as adjunct teaching staff for MCC." Since they needed the curriculum completed so that they could start training the first OPT 235 class from MCC, Bechtold donated their work hours to establish the curriculum.

The outcome? OptiPro Systems employees are teaching an Advanced CNC Optical Fabrication course with Monroe Community College at Optipro this Spring, a course that represents teamwork, agility and flexibility, the hallmark of the members of the Rochester Regional Photonics Cluster.

Once the training was under way, Bechtold recognized the jewel of a training program that Mohring, Fess and Tierson had developed. "We realized that nobody in the industry was delivering a training program of this caliber for CNC optical fabrication," says Bechtold.


To compliment and extend this training to all of their clients, OptiPro is offering a week long training course in Advanced Optical Manufacturing. This one of a kind course will allow Customers to learn how to use the latest innovations being developed at OptiPro. Throughout the week students will receive class room theory pertaining to deterministic microgrinding of spheres and aspheres, high-speed polishing of spheres, and sub-aperture polishing of aspheres while implementing interferometric, non-contact and contact metrology systems. They will also receive ample hands on experience in putting the class room theory to practice by using OptiPro's advanced optical manufacturing laboratory. Here they will use the latest OptiPro eSX grinding, ePX high-speed polishing, Ultra-Form Finishing (UFF), OptiTrace, UltraSurf, and interferometric platforms.

The training course will take place August 16th through August 20th. Cost for the entire week of training is only $1200. To sign up, contact Lynda Bechtold at OptiPro by calling (585) 265-0160 or by email : lynda[(at)]optipro.com.
People in the News
QED Technologies announced the appointment of Dr. Andrew Kulawiec to the position of President of QED Technologies Inc. Dr. Kulawiec's appointment comes after a period of transition following the announcement by QED founder Don Golini in January of this year, to leave the business by June 2010.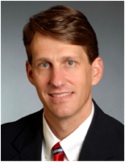 Dr. Kulawiec joined QED in May, 2008 to lead QED's metrology business and optical engineering department. He subsequently drove the technical development, commercialization and marketing launch of the revolutionary ASI ® (Aspheric Stitching Interferometer) product which was introduced in 2009. Since its introduction, the ASI has been adopted by customers in Asia, Europe and North America.
Prior to QED, Andrew was Vice President of Operations for Semrock, Inc., a developer and manufacturer of high performance optical filters for the biotech and analytical instrumentation markets, in Rochester, New York. He was responsible for overall manufacturing operations for Semrock, including thin-film optical coatings and finishings, supply chain, logistics, facilities and quality.
Kulawiec's career also spans twelve years between Corning, Inc. and Corning Tropel Corporation in New York. Corning Tropel Corporation is a manufacturer of precision optical sub-systems and metrology instruments. While there Andrew held technical roles, as well as management positions responsible for metrology development and operations.
Dr. Kulawiec holds a Bachelor of Arts degree in physics from the University of California at Berkeley and a Master of Science degree and Ph.D. in Optical Engineering from the University of Rochester (New York).

"Andrew brings valuable technical expertise, strong optics experience, and proven management ability to the QED President position," said Dan Pike, Vice President, Corporate Development for Cabot Microelectronics Corporation. "His background, demonstrated achievements and leadership will help drive QED's strategy for continued success and future growth."
Contact RRPC
How does one acquire the coveted RRPC Newsletter Cub Reporter Badge?
Luke, you finally got yours but I didn't see you wearing it at Photonics West. Everyone else: contact us with industry news and be the first in your office to wear one (or hide it in your desk).

New York Photonics and the Rochester Regional Photonics Cluster are active and growing collaborative organizations. Efforts are under way on joint training events, workforce development, collaborative advertising opportunities, promoting the commercialization of I.P., and the development of our website to further facillitate business development.
Join us! There are advantages to working together, and we are interested in working with you. Send an email to us at membership@rrpc-ny.org.

To subscribe, to unsubscribe, to submit a news item or upcoming event, to suggest a feature or column, or to offer feedback, contact Tom Battley, at 585-329-4029.