In This Issue
Optifab
RRPC / New York Photonics Annual Meeting Recap
RRPC Networking
East High Summer Sizzler
WNY Golf Tourney
CEO Sales Series Begins in May
Optics Boot Camp
Intellectual Property and Patent Reform
New Paperwork Required For Employers
Acknowledgements, New Awards

Conferences and Events

SPIE Optifab
9 - 12 May 2011
Rochester Riverside Convention Center
Rochester, New York, USA
Attend SPIE Optifab, the largest optical fabrication event in North America-and it only happens every other year. Come see the newest optical technologies, the big machines, and talk to the people who use them.
One fee gives you access to:
A Robust Biennial Exhibition
Over 150 companies dedicated to optical fabrication technologies and applications
See the newest products via hands-on product demos
See the big machine builders: OptoTech, QED, Schneider, OptiPro, and Satisloh
Two Industry Forum Panels on Wednesday
"Win an iPad" prize drawing on Thursday
Unique Technical Program
Over 80 presentations (both technical and commercial) on the latest enabling technologies and applications for optical fabrication. Plus two industry forums are planned - "The Forbes Polynomial Surface: The Road Forward; A Return to Manufacturable Aspheres" and "The Future of Optical Manufacturing in North America."
Courses and Workshops
Designed for the working engineer, Optifab courses address challenges in optical design, engineering, manufacturing, and opto mechanics. Improve your capabilities with new courses in 2011.
Come to SPIE Optifab 2011 in Rochester, New York, for the most important optical fabrication event in North America.
On-the-Job Training/National Emergency Grant (OJT/NEG)
New Federal Funds to Help Your Business Fill Training Needs
The New York State Department of Labor (NYSDOL) has received $3.4 million in federal funds to offer businesses training support under the OJT/NEG program. This program is designed to encourage hiring of long-term unemployed dislocated workers and help off set the cost of training these new hires. An information sheet is here.
A word to the wise... if experience proves out, you need to have the contract in place before you make the hire or you cannot get the OJT reimbursement
Optics Boot Camp
Intensive will Focus Upon Optical Fabrication
Monroe Community College plans to conduct a Basic Optics Fabrication Boot Camp this summer, as part of a NYSTAR grant.
This new program will assist job-seekers in becoming familiar with the tools and processes of precision optics fabrication. Companies within the Rochester Regional Photonics Cluster will be asked to participate in the selection process. A cohort of potential entry-level workers will then be recruited. Candidates will be pre-screened by representatives in the industry and/or the local one-stop center and then placed in a full-time, 140-hour Boot Camp. The Boot Camp curriculum includes: basic blueprint reading, math, basic metrology, and OSHA safety. Participants will receive instruction in manual optics fabrication techniques, along with an introduction to basic CNC equipment operation.
Upon successful completion of the Boot Camp, trainees will receive an industry-recognized certificate of completion, indicating they achieved a set of core competencies and are qualified for entry-level job openings as basic production workers. NYSTAR funding for this program will cover curriculum development, instruction, and materials.
Contact Ross Micali for information. 585.292.3726 rmicali[at]monroecc.edu
RRPC / New York Photonics Annual Meeting
Wrap Up
A full house, brought together from a broad base of OPI stakeholders, assembled on April 13 at STC MEMS for the RRPC / New York Photonics annual meeting.
New York State Lieutenant Governor Robert Duffy was the keynote speaker at the event, reinforcing New York's commitment to our industry. Duffy, formerly mayor of the City of Rochester is no stranger to the Optics, Photonics and Imaging Industry, and expressed an eagerness to listen and learn from idustry leaders about how an industry / state government collaboration can strengthen New York's strategic advantage in "The Century Of The Photon."
Mark Zupan, Dean of the University of Rochester Simon School of Business, moderated a panel focused upon leveraging that same strategic advantage. The far-ranging discussion touched upon issues of innovation, commercialization, seed investments and venture capital, education and entrepreneurship.
2010 RRPC Entrepreneur of the Year Award:
Bill Hurley, President, Rochester Precision Optics.
Presented by Mike Mandina, Optimax, 2009 awardee.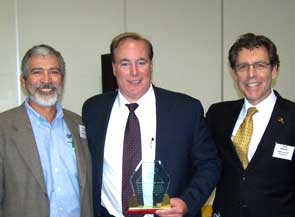 2010 RRPC Leadership Award:
Wayne Knox, Director, University of Rochester Institute of Optics.
Presented by Christopher Cotton,ASE Optics, 2009 awardee.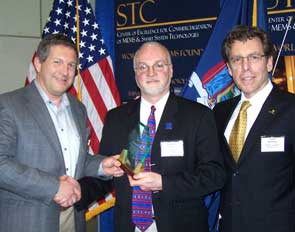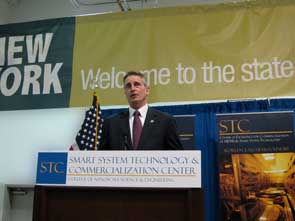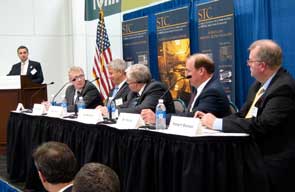 Standards Council
Acknowledgement for Kohlenberg's Service
After helping to establish the Optics and Electro-Optics Standards Council, www.optstd.org, and serving as its Executive Director for 14 years, Gene Kohlenberg decided to retire, although only partially, from the daily rigor of Optical Standards activity.
On Monday night, 9th of May 2011, after the first full day of Optifab, the OEOSC will honor Gene's tireless and 110% commitment to Optical Standards.
Please join us for dinner at 6:30pm in the Radisson Riverside, Silver Room, Rochester, NY (adjacent to the Riverside Convention Center).
Gene's old friends and new friends are invited. Spouses are also invited!
This is an opportunity to relax and share stories about Standards and the many ways in which Gene pushed, cajoled, and even chastised us during the past two decades, and more. We'll present Gene with a token of our appreciation and mention some of the Standards that were handled and developed by the OEOSC during Gene's tenure at the helm.
If time allows, we'll also present a slide show of Gene, and cohorts, at various Standards events throughout the years. If you have some photos you would like to share, please send them to Allen Krisiloff at allen[at]triptar.com. Please RSVP by 3:00PM, Friday, May 6th.

OEOSC is charging a fee of $20 per person to partially offset the catering costs. Payments can be mailed in advance to OEOSC, PO Box 25705, ROCHESTER, NY, 14625-0075. We will also accept cash, or checks made out to OEOSC, at the door!
Save the Date!
WNY Golf Tournament Announces Date
The 11th annual WNY Photonics Golf Tournament will be held Thursday July 21st at Shadow Lake and Shadow Pines Golf Courses in Penfield NY.
Rochester's largest annual networking event for the Optics Comunity has raised over $93,000 for the Golisano Childrens Hospital at Strong.
Registration details will be forthcoming. If you have not participated and are interested, please email wnyoptics@rochester.rr.com and / or contact Ron Schulmerich at 585-455-4447 and you will be on our contact list. Looking forward to seeing everyone there!
Events
CLEO
1 - 6 May 2011
Baltimore, Maryland, USA
Optifab
9 - 12 May 2011
Rochester, New York, USA

Laser World of Photonics, Munich
23 - 26 May, 2011
Munich, Germany
Frontiers In Optics / Laser Science
16 - 20 October 2011
San Jose, California, USA
RRPC Networking
Rochester Optics Community Demonstration of Kodak's Laser Projection Technology

Tuesday May 24, 5:00pm
Theatre on the Ridge
RSVP barrydsilverstein@gmail.com
Barry Silverstein 585-298-3236

Kodak, with the help of many Rochester-based companies, developed a fully functional 3D Laser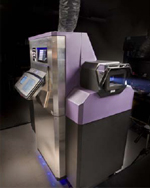 Digital Cinema projection prototype with a revolutionary new optical architecture. Come hear about the patented technology and the fast development effort supported by local fabrication. See the projector in action delivering some of the best images ever seen on the large screen! The invitation with links is attached.
There is room for 300 so let's make it a big turn-out! Hope to see you there in 3D!
Special RRPC Series: Focus on Sales
Are You Winning As Much As You Could Be?
Friday, May 27th, 12:00PM - 1:00PM
CEO Lunch and Learn
The RRPC is providing a monthly lunch and learn series for CEO members that are interested in enabling their organizations to win more sales. The program will be delivered by Worldleaders Sales Solutions and designed to provide a fact-based training approach specifically for RPPC CEO's.
The format will consist of a 1-hour session given on the last Friday of every month. The first 30 minutes will be lecture format, followed by 30 minutes of Q/A and instruction on practical implementation of the concept taught. Worksheets and templates will be provided to all participants.
The workshop series is intended as a platform to educate and inform presidents and CEO's about how to assemble and mange a sales team.
what are realistic expectations?
performance vs. underperformance
myths, common beliefs / what can be expected
why sales people fail
positive and negative trends / what to look for
This will be the first in a three-part series, including:
Step 1: Setting the Right Sales Strategy for Your Company
Step 2: The Mechanics of a Perfect Sales Pursuit…Using the Right Process
Step 3: Proposals/Presentations That Win

The series, in president / CEO roundtable format, will be a no-nonsense dialogue about charting the right strategy and setting up an managing the sales process, . The series is meant for presidents and CEO's only in order to encourage a frank dialogue.
Contact Tom Battley to reserve your seat at the series.
East High / MCC Summer Optics Sizzler
In June, 2010, East High School (Rochester, NY) and Monroe Community College partnered to deliver a three day summer optics program for students from East High School. (see the story here) The intent was to engage 12 students in an exciting and interesting immersion in optics, and establish a dual-credit optics program between the two schools.

Rochester already enjoys the distinction of being the only community in the USA where students can pursue a two-year Associate's Degree, a Bachelor's Degree, a Masters Degree and a PhD in Optics. With the establishment of a dual-credit high school program in optics, the Sizzler team sought to complete a pipeline for establishing a career in optics.
After 2010's successful innaugural Sizzler, the mostly volunteer team working on the camp undertook a review to see how the program can deliver better results for both students and RRPC members. Two of the incentives we aim to deliver in 2011 are scholarships to the MCC Optics program and summer jobs for the participants.
We need RRPC Members to offer summer jobs for these high school students - six-weeks duration - to encourage their pursuit of a career in optics and an Associate's degree at MCC.
If you and your company are able to step up to that challenge, contact Tom Battley.
Patent Innovation Reform Benefits Big Business?
Draft Bills in Washington Cause for Concern
Everyone involved in innovation, inventing new products, and bringing them to market agrees that reform of our patent laws is long overdue. Yet recent attempts at patent reform have failed, and for good reason: if enacted, the legislation as drafted would have been devastating for small businesses. Congress is now reconsidering patent reform, and once again, the bills contain some of the same detrimental provisions that certain large corporations, their lobbyists, and the global harmonization crowd are trying to ram through. A patent reform bill (S.23) has been passed by the Senate, and the House version (HR 1249) may soon come up for vote.
If enacted, the legislation would change U.S. law from awarding a patent to the first applicant to invent to the first applicant to file a patent application. Additionally, a provision that provides a year's time for an inventor or company to further develop an invention before filing a patent application is being gutted. These changes will force applicants large and small to rush to the Patent Office to file patent applications before sufficient R&D is done. Each time an incremental improvement occurs, another patent application will need to be filed before any public disclosure, offer for sale, or public use of the improved invention. The cost of this will kill many small technology companies. They just will not be able to compete in this arena.
These are two of the most egregious issues with HR 1249, but there are others. The bottom line is that Congress should drop H.R. 1249 and its provisions written by large corporate interests and pursue instead a bill that benefits the entire country. This is especially important since smaller innovative American businesses create the vast majority of new jobs here. I urge you to contact your congressional representative and ask him/her to oppose H.R. 1249 and pursue instead a bill that does not hurt smaller American businesses, and the creation of new jobs we desperately need.
---
The FBI has issued a bulletin about intellectual property protection. View the PDF here.
OSA Foundation Honors Robert E. Hopkins

The OSA Foundation (OSAF) is honoring the memory of OSA Past President Robert E. Hopkins. The OSA Leadership Award is being renamed the "Robert E. Hopkins Leadership Award" in recognition of Hopkins's long and distinguished career in optical engineering.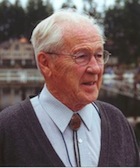 Robert Earl Hopkins, an OSA Past President (1973) and Fellow Emeritus, died on 4 July 2009 in Ithaca, New York. He was 94. Recognized as an expert in optical instrument design, aspheric optics, interferometry, lasers, and lens testing, Hopkins has been characterized as the "Father of Optical Engineering." The OSA Leadership Award, which recognizes an individual or group that has had a significant impact on the global optics and photonics community or on society as a whole stemming from non-research oriented activities, is being renamed in light of Hopkins's research, teaching, and entrepreneurial philosophy, and especially on his emphasis of applied optics.
Contributions to the Robert E. Hopkins Leadership Award may be made at: www.osa-foundation.org/donate or mailed to: OSA Foundation, 2010 Massachusetts Ave., NW, Washington, DC 20036 USA.
Human Resources
New Paperwork Required for New York's Employers
Last year, New York enacted new requirements for employers to provide notice to employees about their wages and other information. The Wage Theft Prevention Act became effective on April 9, 2011. In addition to expanded notice requirements, the Act enhances penalties for violations of the Labor Law, prohibits retaliation, and provides the New York Commissioner of Labor with increased authority to enforce wage and hour laws. Some of the new requirements are described below.
Notice at Commencement of Employment and Annually

The Wage Theft Prevention Act requires that employers include the following information in a written notice provided to employees:
The rate or rates of pay (and the basis of the rate)
Whether the employee is paid by the hour, shift, day, week, salary, piece, commission, or other means
Allowances, if any, claimed as part of the minimum wage (including tip, meal, or lodging allowances)
The regular pay day designated by the employer
The name of the employerAny "doing business as" names used by the employer
The physical address of the employer's main office or principal place of business and mailing address, if different
The telephone number of the employer; and Any other information the Commissioner of Labor deems material and necessary.
Forms will be available at the New York Department of Labor website: www.labor.ny.gov. There are different forms tailored to different categories of employees.
The Act requires all employers to provide such notice to employees both at the time of hiring and on or before February 1 of each year of employment. Further, the notice must be provided to employees in English and the language identified by the employee as his or her "primary language." Employers must obtain a signed written acknowledgement of receipt of the notice each time it is received by an employee, and maintain such written acknowledgment for six years. Additionally, employers who fail to comply with the new notice requirements may be subject to damages of $50 per work week, up to a maximum of $2,500, with costs and attorneys' fees.
Pay Statement Requirements

The Wage Theft Prevention Act includes new payroll and paystub requirements. All pay statements provided to employees must include the following information:
The dates of work covered by that payment
The name of the employee The name of the employer
The employer's address and phone number
The rates of pay as the basis thereof
Gross wages
Deductions
Allowances, if any, claimed as part of the minimum wage
Net wages
In addition, employers will now be required to maintain payroll records for six years, as opposed to three years as previously required. Failure to meet the Act's new pay statement requirements may result in a penalty of $100 per week, up to a maximum of $2,500, plus attorneys' fees.
Contact RRPC
How does one acquire the coveted RRPC Newsletter Cub Reporter Badge?
Contact us with industry news and be the first in your office to wear one (or hide it in your desk).

New York Photonics and the Rochester Regional Photonics Cluster are active and growing collaborative organizations. Efforts are under way on joint training events, workforce development, collaborative advertising opportunities, promoting the commercialization of I.P., and the development of our website to further facillitate business development.
Join us! There are advantages to working together, and we are interested in working with you. Send an email to us at membership@rrpc-ny.org.

To subscribe, to unsubscribe, to submit a news item or upcoming event, to suggest a feature or column, or to offer feedback, contact Tom Battley, at 585-329-4029.